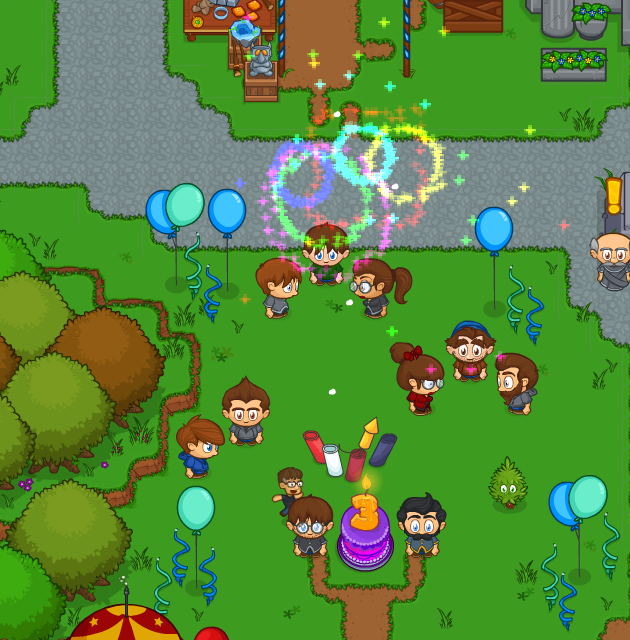 (from the in-game news item) Bush Whacker 2 is THREE YEARS OLD this weekend! To celebrate, the whole dev team has gathered in the Commons for cake and fireworks, and you can partake in both! We're also offering 33% more Bush Bucks with your purchases this weekend, plus a super unique Justin pet. Be warned: If you click him too many times, he'll get angry, and you don't want to make him angry... trust us.
There's also a normal Friday content update as well -- help the contractor build the third level of the skyscraper! You must have built the previous two levels to start this quest.
Here is the link to the official Codename blog for this event.
The event started around 4:20PM PDT on Friday, April 17, 2015 and ran until Noon on Monday Apr 20. It is not known how much 420 was involved. A bunch of people representing Codename employees appeared in the commons, together with a cake and some fireworks. Clicking on the fireworks set them off (see above picture) and could be done as long as you like. Clicking on the cake gave you 9
(in 3 groups of 3) and two kinds of cake, so you can have your cake and eat it, too! The cake can be clicked on only once. None of the cakes mentioned here are lies.
Name
Description

3rd Anniversary Cake
Made with love!
You can place this at your house!

3rd Anniversary Cake
Mmm! Delicious! Restores 100% of your base max energy!
The Justin pet can reportedly be whacked by clicking on him. Doing this too many times turns him into the Incredible Hulk (see picture in Codename blog).
Name
Possible Bonuses
Max Level Bonus
Description
Cost

Justin
Odds to win Gems
+30%
He's so happy!... so don't make him angry!
Buy Bush Bucks during
third anniversary event