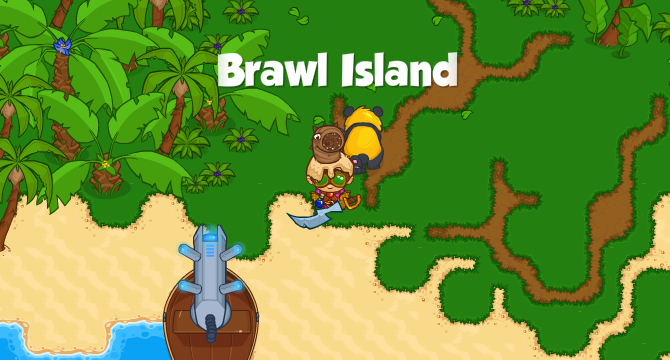 About the Zone
Edit
Brawl Island is an optional area located between Vacatau Island and Upper Juau Island and is part of Nate's Adventures Quest line.
Prerequisites: Complete the three Trip Prep quests on Upper Juau Island
Mission
Task
Reward
1. Three Trials: Sword Fighting
Defeat the Swordmaster
50  · Novelty T-shirt???????????????***
Beat the (not-so) legendary sword fighter of Brawl Island to complete this challenge. Talk to the red-haired sword fighter on Brawl Island to get started.
2. Three Trials: Treasure Hunting
Find the treasure
50  ·
Explore the hidden Mr. Monkey Island to find the lost treasure to pass this trial! Talk to the brown-haired digging pirate on Brawl Island to get started.

(Accepting this quest unlocks Mr. Monkey Island and you will be given a Mystery Note to aid in the Hunt. It will be added to your inventory til you complete this quest. If you get lost, refer to the directions with a capital letter.)
3. Three Trials: Thievery
Take the idol
50  ·
Sneak into the Mansion and 'borrow' the idol from the display room so that you can complete the Trial of Thievery. Talk to the blonde pirate on Brawl Island to get started.
4. Curse Busters
Collect the last 25 Pieces of Gold
50  · Title: Swashbuckler
Nate's in more trouble than you thought. Gather up the Cursed Gold around Brawl Island to see if you can crack the curse!
Decoration Items
Edit
| | Name | Description |
| --- | --- | --- |
| | Idol of Many Palms | Just wait until someone takes it from your ranch, see how you like it! |
| | Davey Jones' Locker | Reminds me of gym class... |