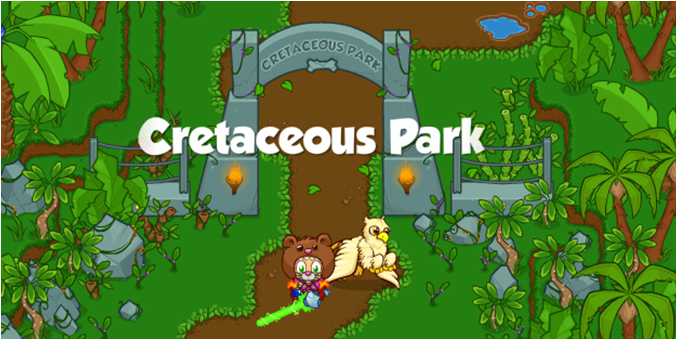 About This Zone
Edit
Nate Dragon has a swell new adventure for you! If you've successfully rescued him from jail in Agrabush, you can join him in the Jungle for a special prehistoric adventure! It's got DINOSAURS!!!
Prerequisites: Complete Nate's Agrabush Adventure and reach the 2nd area's 3rd field in The Outer Temple Ruins
Mission
Task
Reward
Nate's Jungle Inspection
Talk to Nate
50
Meet Nate in the Outer Temple Ruins in the Jungle by the third field.
The Creatceous Park
Enter the Cretaceous Park
50
Well, Nate got himself a job as a park inspector - not that he has any experience at it - and so of course he's roped YOU into helping him.
Fossil Fuel
Find 20 Fuel Cans
50
Whack up some gas cans to fuel the helicopter. You can find gas cans in the field on the beach in the Cretaceous Park.
Helicopter Ride
Get in the chopper!
Hop in the helicopter and enjoy the scenic journey to the island
Open the Gate
Whack bushes until you can open the gate.
50
Find a way to open the Cretaceous Park gate! You can open the gate by completing the puzzle in the field just south of the Gate.
Cyclist Safety
Find 20 Road Paint
50
Collect some paint for Nate. You can find paint near the jeep in the Cretaceous Park.
Sticky Note Pickup
Find 35 Sticky Notes
50
Collect Sticky Notes so the programmer can find his password to unlock the bridge. You can find sticky notes in the field south of the Visitor Center in Cretaceous Park.
Keep It Clean
Whack bushes until you find what a hand washing station
50
Search the bushes for a hand washing station in the triceratops enclosure. Complete the puzzle in the field in the Cretaceous Park to find a hand washing station.
Electric Fence
Find 35 Electrical Wire
50
Collect Cables to electrify the T-Rex enclosure fence. You can find Cables in Cretaceous Park.
Cretaceous Treasure
50  · Chest which contains
250  ·  ·  ·
Decoration Items
Edit
| | Name | Description |
| --- | --- | --- |
| | Brachiosaurus Poster | Not to scale! |
| | Pterodactyl Poster | The flying dinosaur! |
| | Triceratops Poster | The pokey dinosaur! |
Ad blocker interference detected!
Wikia is a free-to-use site that makes money from advertising. We have a modified experience for viewers using ad blockers

Wikia is not accessible if you've made further modifications. Remove the custom ad blocker rule(s) and the page will load as expected.