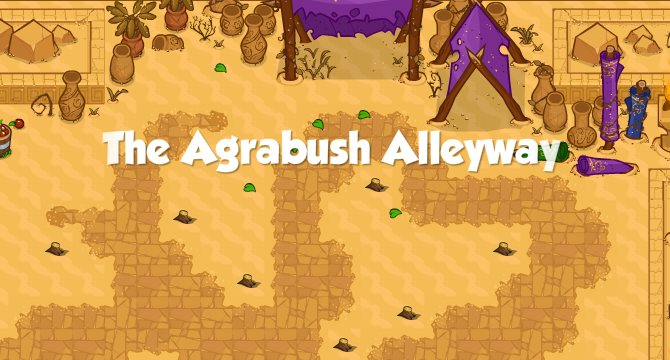 It's time for another Investigator Kaine mystery! If you've solved Kaine's previous mysteries, and you've completed the main storyline through all of Agrabush, you can talk to the Town Crier in the Commons to get started. No spoilers!
Prerequisite: Complete The Mystery of the Missing Islands and reach The Desert City Gate.
Subsequent prerequisites including completing The Crumbling Palace to 100%.
Mission
Task
Reward
Searching the Alley
Solve the Puzzle
Leveled or
Unlocks: Clue
Follow Investigator Kaine into the Agrabush Alleyway and help him search for clues as to the whereabouts of the Princess's evil hat.
Side Alley Segue
Solve the Puzzle
Investigate the Gold Stars
Investigate the Chalk Dust
Investigate the Pencil Tins
Talk to Investigator Kaine
Leveled or
Unlocks: Clues
Search the field in the Agrabush Alleyway to revel more clues, then investigate each of the clues with the assistance of Investigator Kaine.
Back Alley Priorities
Solve the Lower Puzzle
Solve the Upper Puzzle
Confirm with Investigator Kaine
Leveled or
Unlocks: Clue
Solve the puzzles in upper and lower fields in the Agrabush Alley to help Investigator Kaine find more clues in the Mystery of the Evil Hat.
The Key To It All
Find the Special key
Return to Investigator Kaine
Leveled or
Find the Special Key by whacking bushes in the Agrabush Alleyway. Bring the Key to Investigator Kaine once you've found it.
Back to Common Ground
Talk to Investigator Kaine in the Commons
Enter the Schoolhouse
Leveled or
Return to the Commons and meet Investigator Kaine near the Town Crier.
Critters and bushes are max level for your current progress.