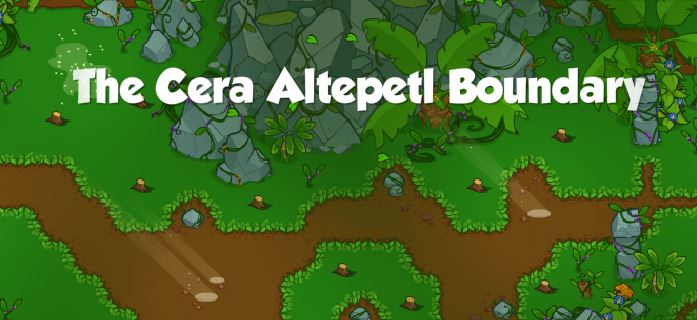 The Wild Wig Part 5
The Princess is looking for a legendary wig for her next costume, which has been broken into pieces hidden throughout the High Jungle. Sounds pretty harmless! Search for the fifth piece in The Cera Altepetl Boundary
Mission
Task
Reward
Fire Flies for Ixtli
Find 20 Fire Flies
 · 2% Level
Find Fire Flies for Ixtli in The Cera Altepetl Boundary
Grubs for Grylls
Find 20 Huge Bug Grubs
 · 2% Level
Find Huge Bug Grubs or Grylls in the Cera Altepetl Boundary
Counting for Coaxoch
Find 50 Critters
 · 2% Level
Count Critters for Coaxoch in the Cera Altepetl Boundary
Collars for Cualli
Find 20 Pet Collars
 · 2% Level
Pet Collars for Cualli in the Cera Altepetl Boundary
Trinkets
Edit
| | Name | Description |
| --- | --- | --- |
| | Gorilla Mask | You'll be queen of the apes with this mask! |
| | Gorilla Hand Gloves | The perfect gloves to monkey around with! |
| | Peacock Tail Cape | Time to strut your stuff with this dashing cape! |
Decoration Items
Edit
| | Name | Description |
| --- | --- | --- |
| | Ornate Orange Rug Tile | Has an intricate pattern sewn into it. |
| | Adobe Shack | Welcome to the Jungle Shack |
| | Jungle Plant Shrine | A shrine devoted to those green growey things. |
Critters
Edit
Secret Bonus Area
Edit

Spoiler: Secret Bonus Area 80 can be reached via the secret entrance in The Cera Altepetl Boundary by gathering flowers for the 3 Sniffer Sentinels.
---

Give the Sun Flower [field 1, near bridge] to the Sentinel on the Left
Give the Lava Flower (found on dock, near boat) to the Sentinel on the Right.
Give the Dead Flower (found to the right of the garden) to the Sentinel in the Center.
Other flowers (not needed for the quest): Power Flower [ field 4 near gate]; Water Flower[above field 4 in stream}; A Walking Flower (found walking around the area).
The Sentinels will then allow you to enter the Hut, which leads to SBA 80.
The puzzle here has 100

. The rewards are Lychee Seeds (5 hr Energy Crop); Star Fruit Seeds (12 hr Energy Crop); Water Chestnut Seeds (5 hr Gold Crop); Eggplant Seeds (12hr Gold Crop) .