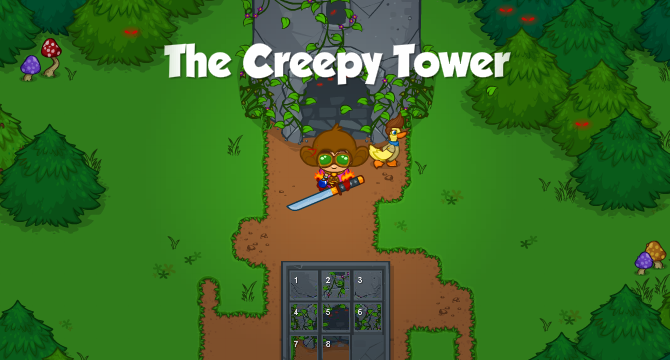 Prerequisite: Complete The Mystery of the Missing Cows and reach The Hermit's House
Mission
Task
Reward
Investigate Every Angle
Find 20 Machetes
2%
They are too many weeds to get around to the back of the Creepy Tower. Find machetes on the nearby field in order to clear the tower's base so Investigator Kaine can check the back of it.
Searching For Another Way In
Solve the Puzzle
2%
There's no obvious way into the tower. Solve the puzzle in the nearby field to see if you can find a non-obvious way in.
A Simple Slide or Two
Solve the Sliding Puzzle
2%
The puzzle that the field revealed seems to be linked to the tower in some way. Solve it by shifting the tiles around to form the image of the tower, with the blank tile ending up in the bottom right corner.
Completing the last quest opens the way to The Creepy Tower Interior.
Link to help solve the SLIDER PUZZLES. Use the arrow buttons to change the puzzle size if need be. Click edit. Put the numbers in as they appear in the puzzle you are trying to complete, Then use the solve button to see each move and copy it in your puzzle.