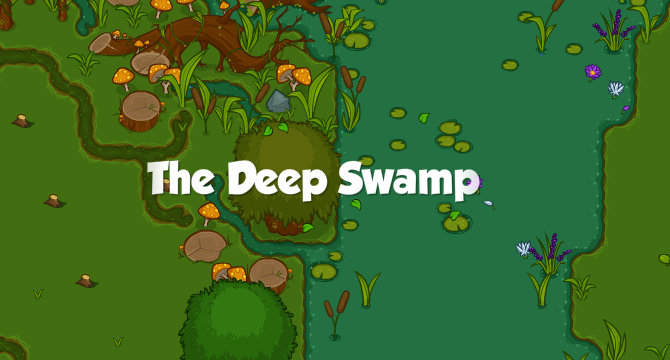 Mission
Task
Reward
Save Mookie
Save Mookie
Find a way to dispel the poison gas that blocks your way forward
1. Logs for Luongo
Find 40 Logs
Fishing Point
150  · 75
Find Logs for Luongo in the Deep Swamp
2. Rope for Renaldo
Find 35 Ropes
150  · 75
Find Rope for Renaldo in The Deep Swamp
3. Exterminate for Erin
Whack 15 Mosquitos (Level 9 Monster)
150  · 75
Whack Mosquitos for Erin in The Deep Swamp
4. Swamp Paint for Pete
Find 30 Tubes of Paint
150  · 75
Find Tubes of Paint for Pete in The Deep Swamp
| | Name | Description |
| --- | --- | --- |
| | Rainbow Cape | For extra color! |
| | Mossy Sword | It looks kind of old. |
| | Trucker Hat | It's blue and white! |
| | Safety Goggles | Just in case the bushes are extra splintery. |
Decoration Items
Edit
| | Name | Description |
| --- | --- | --- |
| | Wooden Chest | You cannot store anything in this chest. |
| | Patterned Rug | So mesmerizing. |
| | Voodoo Mask | You can hang this on your wall. |
| | Snake Statue | This statue is sssssuperb. |
| | Name | Costs to whack |
| --- | --- | --- |
| | Hissy "Ssssss" | 8 |
| | Mosquito "Zeze" | 9 |
Secret Bonus Area
Edit

The entrance is accessible by passing between the trees to the southwest of Field 1 and walking up the peninsula.
The puzzle has 64 puzzle pieces and the bushes are level 8 and 9.
After completing the puzzle, you will be rewarded with 250 Gold and the Crystal Tooth Schematic.
Ad blocker interference detected!
Wikia is a free-to-use site that makes money from advertising. We have a modified experience for viewers using ad blockers

Wikia is not accessible if you've made further modifications. Remove the custom ad blocker rule(s) and the page will load as expected.