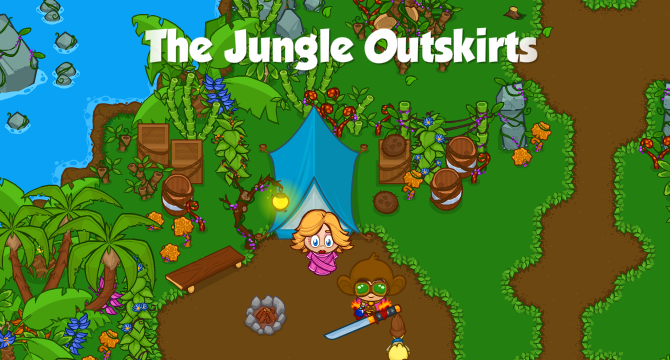 Mission
Task
Reward
Homeward Bound?
Follow the Princess into the Jungle
250
The Princess has been rescued, but now an even bigger challenge looms. Get her safely home to the king. You have no idea where you are and you have no ships to cross the ocean, but where there's a will, there's a way...
The Ancient Explorer's Tomb
Make your way through the Jungle
Rumors speak of a temple deep within the jungle that houses the final resting place of the famed explorers, Lewis and Clark. You've got to find it!
Mission
Task
Reward
Safari Hats for Hailey
Find 40 Safari Hats
50
Collect 40 Safari Hats for Hailey. You can find Safari Hats in bushes all throughout The Jungle Outskirts.
Coffee Beans for Barrett
Find 50 Coffee Beans
50
Collect 50 Coffee Beans for Barrett. You can find Coffee Beans in bushes all throughout The Jungle Outskirts.
Malaria Vaccines for Vincent
Find 45 Malaria Vaccines
50
Collect 45 Malaria Vaccines for Vincent. You can find Malaria Vaccines in bushes all throughout The Jungle Outskirts.
Machetes for Machete
Find 20 Machetes
50
Collect 20 Machetes for Machete. You can find Machetes in bushes all throughout The Jungle Outskirts.
Name
Description
Source

Golden Coconut
Increases your Mana, Power, Gold, Energy, and Less Nothings Odds Ratings by 1000
Schematics - Field 1, Puzzle 3 in The Jungle Outskirts
Sandstone Wand + Jeweled Knife + Jade Cat Statue + Golden Pyramid + Mummified Cornucopia
17,500  · 10

Jumanji Box
Increases your Mana and Power by 9 and your Maximum Energy by 80
Schematics - Field 4, Puzzle 2 in The Jungle Outskirts
Pharoh's Necklace + Ancient Orb + Sandstone Ring
17,500  · 10
| | Name | Description |
| --- | --- | --- |
| | Leopard Print Glasses | Very sassy! |
| | Monkey Hat | This hat will make you go bananas! |
| | Leopard Print Cape | Bring out your wild side! |
Decoration Items
Edit
| | Name | Description |
| --- | --- | --- |
| | Leopard Tile | For making your floor look like a leopard's back. |
| | Banana Split | Make like a banana, and split. |
| | Zebra Rug | No Zebras were harmed in the making of this rug. |
Secret Bonus Area
Edit

The Thirty Fourth Secret Bonus Area can be accessed by finding the secret entrance in The Jungle Outskirts.
The entrance is to the South West corner of the zone and is accessible after moving the elephant that blocks your access to Field 3. Head south into the copse of trees and worm your way around to the western edge of the map.
The puzzle has puzzle 64

and the bushes are level 16 & 17.
After completing the puzzle, you will be rewarded with 250

and the

.