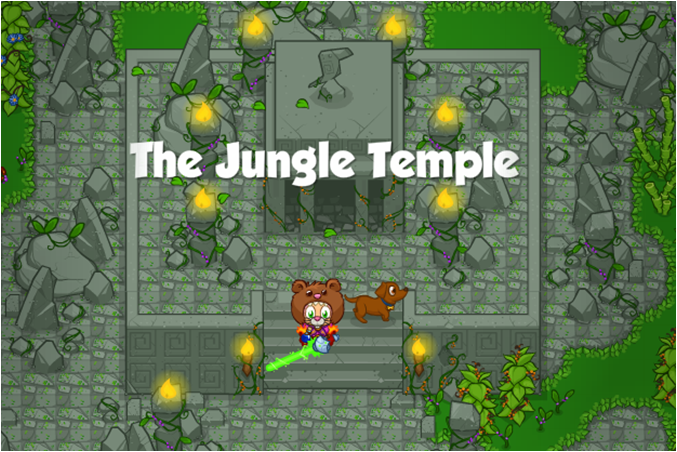 Mission
Task
Reward
The Ancient Explorer's Tomb
Make your way through the Jungle
 · 250
Rumors speak of a temple deep within the jungle that houses the final resting place of the famed explorers, Lewis and Clark. You've got to find it!
Powerless
Head into the Power Crystal Mines
You've found Lewis and Clark's famed GPS device, but it doesn't seem to be working. You'll have to find some way to power it... The dwarves in the crystal mines to the east may be able to help.
Mission
Task
Reward
Bombs for Banquo
Find 50 Bombs
50
Collect 50 Bombs for Banquo . You can find Bombs in bushes all throughout The Jungle Temple.
Rubbing Paper for Pacal
Find 30 Rubbing Papers
50
Collect 30 Rubbing Paper for Pacal. You can find Rubbing Papers in bushes all throughout The Jungle Temple.
Tomb Raiding Gear for Laura
Find 45 Tomb Raiding Gear
50
Collect 45 Tomb Raiding Gear for Laura. You can find Tomb Raiding Gear in bushes all throughout The Jungle Temple.
Whips for Indie
Find Whips
50
Collect Whips for Indie . You can find Whips in bushes all throughout The Jungle Temple.
Name
Description
Source

Leopard Essence
Increases your movement speed by 70%
Schematics in Chest The Jungle Temple after completing Field 2, Puzzle 3
Crafted - 7 Scrap Metal + 6 Polish +7 Pure Mana + 6 Medium Crystal

Golden Banana
Multiplied fruit wins always award the best possible fruit for the bush level
The Jungle Temple completing Field 4, Puzzle 2.

Midas' Finger
Increases your Gold and Power Odds Rating by 2200
The Jungle Temple completing The Ancient Explorer's Tomb quest.
| | Name | Description |
| --- | --- | --- |
| | Carved Stone Cape | Made by an ancient civilization. |
| | Dundee Hat | Excellent for scaring all of those jungle crocodiles! |
| | Machete | Made for whacking jungle bushes. |
Decoration Items
Edit
| | Name | Description |
| --- | --- | --- |
| | Monkey Doll | All the monkey without the mess. |
| | Caged Fruit | Locks in the sweetness |
| | Bacon Pancakes | Make'n pancakes, make'n bacon pancakes. |
Secret Bonus Area
Edit

The Thirty Seventh Secret Bonus Area can be accessed by finding the secret entrance in The Jungle Temple.
The entrance is in the middle of the zone, hidden by overgrown brush, and is accessible when you have completed Field 4, Puzzle 3. You simply walk down (South) the partially obscured stairwell into the temple basement.
The puzzle has puzzle 64

and the bushes are level 18.
After completing the puzzle, you will be rewarded with 250

and the

.
Ad blocker interference detected!
Wikia is a free-to-use site that makes money from advertising. We have a modified experience for viewers using ad blockers

Wikia is not accessible if you've made further modifications. Remove the custom ad blocker rule(s) and the page will load as expected.