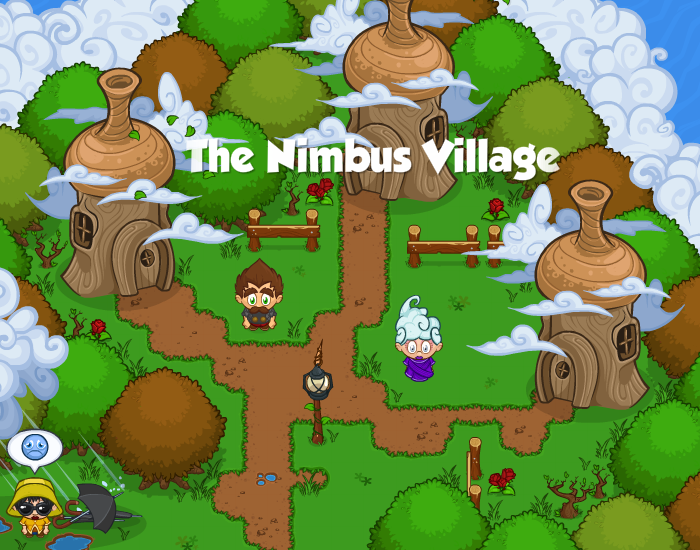 Mission
Task
Reward
Head In(to) the Clouds
Climb the Beanstalk to enter Cloudland
Make your way to the Cloud Castle
 ·  · 20%
Find a way up into cloudland and then adventure through them to find the Cloud King and see if he's got anything to do with the weirdness in the Fungal Forest and Seasonal Forest.
Mission
Task
Reward
Umbrellas for Umbridge
Find 20 Umbrellas
 · 2%
Umbridge can feel a change in the weather coming. Find her some Umbrellas before it's too late.
Cloud Herbs for Rosa
Find 20 Cloud Herbs
 · 2%
Rosa is looking for some specific herbs that only grow in the clouds. Better get whacking.
Forecasts for Frankie
Find 20 Weather Forecasts
 · 2%
Frankie thinks there's something unnatural going on with the weather. Find him some Forecasts to see what's what.
Cloud Rope for Rhonda
Find 20 Cloud Ropes
 · 2%
Rhonda is afraid some of her clouds are floating away. Find her some rope in order to tie them down.
Note: In field 2, you can click on the spiderweb and get friends to help you get rid of it even before completing puzzle 1.
Name
Description
Source

Golden Raindrop
Increases your Gold Odds Rating by 57500
Store after reaching The Nimbus Village
50,000 , 26

Captured Lightning Jewel
Increases your Gem Odds Rating by 57500
Store after reaching The Nimbus Village
50,000 , 26

Glowing Bracelet
Increases your Maximum Mana by 30
Chest schematic Field 2 - Puzzle 3 in The Nimbus Village
Crafted - 7 Polish + 6 Small Crystal + 6 Pure Mana + 7 Pure Gold
| | Name | Description |
| --- | --- | --- |
| | Cloud Hat | It's like wearing a pillow. |
| | Wind Cape | Wind at your back! |
| | Big Cloud Sword | A different sort of cloud sword. |
Decoration Items
Edit
| | Name | Description |
| --- | --- | --- |
| | Iron | Finally get those wrinkles out of your capes. |
| | Cloud Gnome | Decorate your cloud garden. |
| | Cloud Chair | Kind of a gag gift. |
Secret Bonus Area
Edit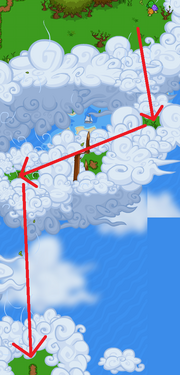 Take the following steps to get to Secret Area 64:
First solve puzzle 2 of Field 4.
Stand where the wind is blowing (in the lower right section of the map). The wind should blow you to another cloud, with three uncovered sections. If it doesn't, try moving down.
Here's the tricky part: You need to get to the leftmost part of the cloud. Click on that part repeatedly. It will move while you're clicking, so you might not get it the first few times.
Move down to a cloud on the bottom of the map, and move further down from there.
The puzzle for this area has 100

, giving 1000

and the Cloudland Mini Golf Piece as a reward:
| | Name | Description |
| --- | --- | --- |
| | Cloudland Mini Golf Piece | Oh bother, what a blustery day! |