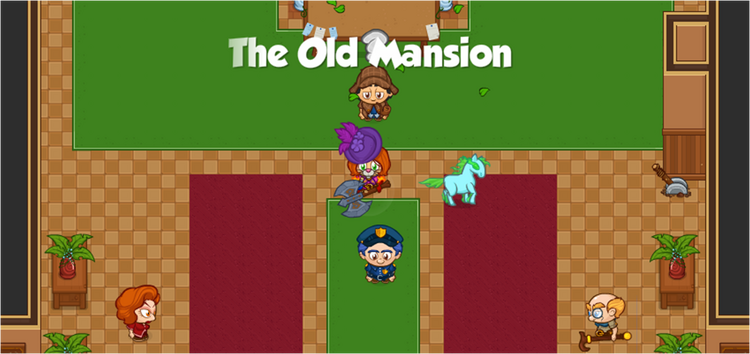 The Old Mansion is the setting of Inspector Kaine's The Mystery of the Mansion Murder Detective Agency Quest.
Prerequisite: Complete The Mystery of the Massive Mammoth and complete Haunted Forest Supply Run quest.
Mission
Task
Reward
The Haunted Forest Investigation
Find Investigator Kaine in Port Black Wood.
XX
Meet Investigator Kaine at Port Black Wood. There's been a horrible murder! Port Black Wood is right after The Creepy Crevice on the second island.
Meet at the Mansion
Speak with Police Chief Piggum in the mansion.
 ·
Head down the path near the eastmost house in Port Black Wood and speak to Police Chief Piggum in the mansion to get the lowdown on the Mansion Murder Mystery.
Interrogate the Suspects
Interrogate Professor Purple
Interrogate Mrs. Blue
Interrogate Reverend Green
Interrogate Colonel Yellow
Interrogate Miss Red
Speak with Investigator Kaine
 ·
Speak with all 5 suspects to hear their alibis.
Mansion Clues
Find the Empty Beverage Containers in the Chess Room
Find the Empty Fruit Bowls in the Kitchen
Find the Lost Pipe in the Study
Find the Mug of Hot Chocolate in the Lounge
Find the Sangria Bowl in the Hall
Find the final clue
 ·
Search the mansion for clues that prove or disprove the suspects alibis
J'accuse!
Talk to Investigator Kaine and make an accusation.
Unlocks Title: Investigator
Unlocks Achievement: Haunted Sleuth!
 ·  · x2 · x4
Make an accusation against the right suspect.
Decoration Items
Edit
| | Name | Description |
| --- | --- | --- |
| | Old Gold Bars | Some of Mr. Bushley's long lost fortune! These bars would look great on your ranch! |
Ad blocker interference detected!
Wikia is a free-to-use site that makes money from advertising. We have a modified experience for viewers using ad blockers

Wikia is not accessible if you've made further modifications. Remove the custom ad blocker rule(s) and the page will load as expected.