Mission
Task
Reward
Head In(to) the Clouds
Climb the Beanstalk to enter Cloudland
Make your way to the Cloud Castle
 ·  · 20%
Find a way up into cloudland and then adventure through them to find the Cloud King and see if he's got anything to do with the weirdness in the Fungal Forest and Seasonal Forest.
Mission
Task
Reward
Sweaters for Sam
Find 20 Sweaters
 · 2%
Sam's getting a little chilly. Find him some Sweaters to keep him warm.
Paint for Pete
Find 20 Tubes of Paint
 · 2%
Pete the Painter is back and better than ever. Find him some Tubes of Paint in the Winter Wonderland so he can create his latest masterpiece!
"Of course I need paint! I always need paint! Why I don't just bring Paint with me, I'll never know."
Whistles for Wanda
Find 20 Warp Whistles
 · 2%
Wanda doesn't want to replay those really hard levels in world 4. Find her some Warp Whistles so she can skip them.
Cloud Artifacts for Amanda
Find 20 Cloud Artifacts
 · 2%
Amanda is really into history. Find some Cloudland Artifacts in the bushes.
Cloth for Carl
Find 20 Canvas Cloths
 · 2%
Carl is hoping to sail away on a personal cloud. Find him some Cloth to make a sail.
Name
Description
Source

Lightning Rod
Increases your Mana Odds Rating by 65000
Store after reaching The Stratus Incline
50,000 , 26

Cloud-filled Cornucopia
Increases your Less Nothings Odds Rating by 65000
Store after reaching The Stratus Incline
50,000 , 26

Glowing Ring
Increases your Maximum Power by 30
Chest schematic Field 4 - Puzzle 2 in The Stratus Incline
Crafted - 6 Polish + 7 Worn Chisel + 6 Smithing Hammer + 7 Sharp Chisel
| | Name | Description |
| --- | --- | --- |
| | Parachute Pack | Just in case! |
| | Skydiving Helmet | Just in case. |
| | Rainbow Gloves | Color at your fingertips. |
Decoration Items
Edit
| | Name | Description |
| --- | --- | --- |
| | Thundercloud | Your own personal thundercloud. |
| | Beanstalk Cloud | Leads from a big cloud to a smaller cloud. Not terribly useful. |
| | Cloud Tower | Not Repunzel's tower. |
Secret Bonus Area
Edit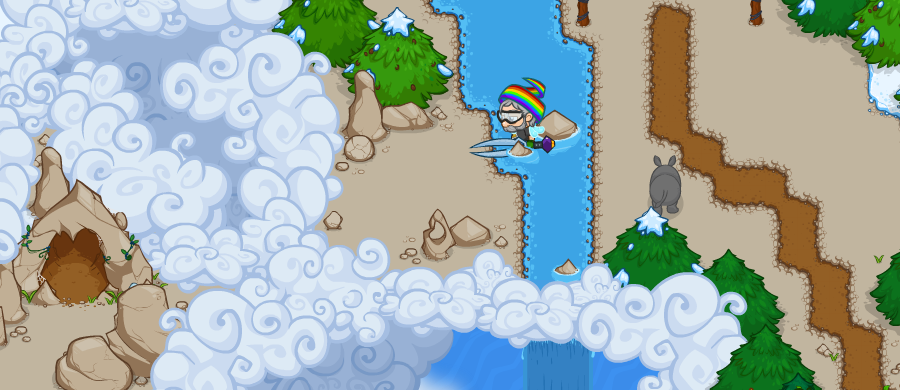 To reach the Bonus Area, first solve Puzzle 2 of Field 2, and hit the boxes in the correct order. (Middle right, far left, far right, middle left).
Next, solve Puzzle 3 of Field 4. Head left until you reach a river. Cross it (just click the far bank), and continue on to the cave.
The puzzle here has 100

. The chest contains 1000

and 6

.
Ad blocker interference detected!
Wikia is a free-to-use site that makes money from advertising. We have a modified experience for viewers using ad blockers

Wikia is not accessible if you've made further modifications. Remove the custom ad blocker rule(s) and the page will load as expected.