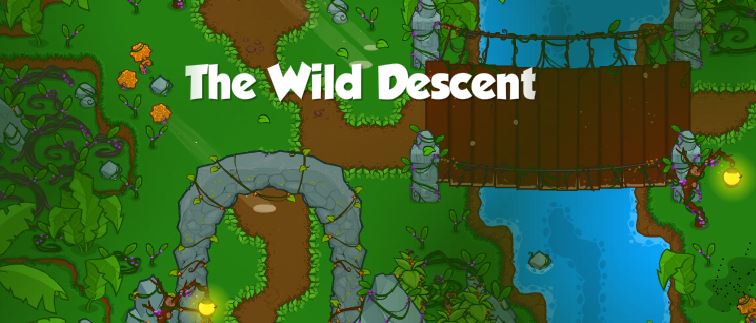 The Wild Wig Part 3 The Princess is looking for a legendary wig for her next costume, which has been broken into pieces hidden throughout the High Jungle. Sounds pretty harmless! Search for the third piece in The Wild Descent
Mission
Task
Reward
Figs for Xochpilli
Find 20 Figs
 · 2% Level
Find Figs for Xochipilli in the Wild Descent
Sap for Sacnite
Find 20 Pails of Rubber Tree Sap
 · 2% Level
Find Pails of Rubber Tree Sap for Sacnite in the Wild Descent
Cocoa Beans for Beau
Find 20 Cocoa Beans
 · 2% Level
Find Cocoa Beans for Beau in The Wild Descent
Terrariums for Terrah
Find 20 Bug Terrariums
 · 2% Level
Find Bug Terrariums for Terrah in The Wild Descent
Trinkets
Edit
| | Name | Description |
| --- | --- | --- |
| | Banana Hat | Now is the perfect time to go bananas! |
| | Banana Bunch Cape | A cape and nutritious snack all in one! |
| | Banana sword | A nutritiously powerful sword! |
Decoration Items
Edit
| | Name | Description |
| --- | --- | --- |
| | Monkey Bars | Time to monkey around! |
| | Tree House | A tree top playhouse! |
| | Banana Bunch | Be careful where you put the peels! |
Critters
Edit
Secret Bonus Area
Edit

Spoiler: Secret Bonus Area 78 can be reached via the secret entrance in The Wild Descent
---
First head to the clearing in the center of the area, near the bottom right there is a small path that you can walk down.


Cross the river at the top, climb up the ladder, collect a banana from the tree.


Then head south of field 3, down the ladder and coat the banana with honey.


Give the banana to the monkey sitting on the log beside the water fall near the clearing (by the rhino). That will give you access to the door below the waterfall.


Next you need a code, to get that you have to go to the The Cera Altepetl Boundary, talk to the person with the laurel wreath near the middle of the lower area. They will tell you the code for the area, but they only know the traditional name of the areas, the wild descent being know as Huetzi in the traditional language.


Once you have the code you can enter it at the door in the waterfall and you have access to SBA 78.
Hippo Mini Golf Piece
The puzzle here has 100

. The reward is

and the Venus Beast Mount.