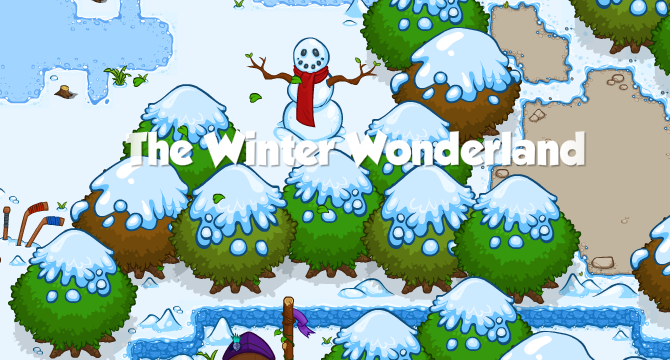 Mission
Task
Reward
The Chase is on Again!
Corner the Bowler Hat Minion in the Winter Wonderland.
Chase the Bowler Hat Minion through the Autumnal Forest.
Chase the Bowler Hat Minion through the Summer Village.
Chase the Bowler Hat Minion through the Spring Thicket.
Whoever the Bowler Hat Minion minions works for is clearly behind the strange happenings in the Fungal Forest and the Seasonal Forest. Chase her through the Seasonal Forest and try to figure out who she's working for.
Head In(to) the Clouds
You must wait until the next update to continue this quest...
Find a way up into the clouds kingdom... once the next update is released, of course.
Mission
Task
Reward
Sticks for Sheldon
Find 20 Sticks
 · 2%
Sheldon in the Winter Wonderland really wants soe more Hockey Sticks so he can play hockey. Search the bushes!
Paint for Pete
Find 20 Tubes of Paint
 · 2%
Pete the Painter is back and better than ever. Find him some Tubes of Paint in the Winter Wonderland so he can create his latest masterpiece! (Note: This quest does not show up on the area progress chart. You don't need to complete it to complete the area.)
Bubble Wrap for KuriiClaws
Find 20 Bubble Wrap
 · 2%
KuriiClaw's wife is injured and needs to be protected! Find some Bubble Wrap in the bushes in the Winter Wonderland and bring in back to KurriClaws.
Skates for Steven
Find 20 Skates
 · 2%
Steven would like to take advantage of the sudden freeze and go for a skate, but he's misplaced his Skates under all this snow. Whack bushes until you find some for him.
Xylophones for Xeria
Find 20 Xylophones
 · 2%
Xeria's name is really hard to alliterate with a quest item, so find her some Xylophones in the Winter Wonderland.
Name
Description
Source

Frozen Cornucopia
Increases your Less Nothings Odds Rating by 40000
Store after reaching The Winter Wonderland
40,000 , 24

Icy Dowsing Rod
Increases your Quest Item Odds Rating by 20000
Schematics in Field 1, Puzzle 3 in The Winter Wonderland
6 Rough Powder + 7 Fine Powder + 6 Polish + 7 Smithing Hammer

Orb of Seasons
Increases your Maximum Power and Mana by 15, and your Max Energy by 130
Quest Reward
| | Name | Description |
| --- | --- | --- |
| | Microphone Sword | A Microphone for whacking bushes. |
| | Gold Gloves | A pair of Gold Gloves. |
| | Cool Shade Shades | Stay cool in the shade Shades. |
Decoration Items
Edit
| | Name | Description | Cost |
| --- | --- | --- | --- |
| | Winter Poster | It's cold and wet, but at least it'll be Spring soon | 2500 |
| | Pink Panda Plushie | It's like a huge carnival prize! | 3000 |
| | Xylophone | Five notes of fun! | 3500 |
| | Name | Costs to whack |
| --- | --- | --- |
| | Grub "Sluggo" | 28 |
| | Wasp "Beester" | 29 |
Secret Bonus Area
Edit

Spoiler: Secret Bonus Area 62 can be reached via the secret entrance in The Winter Wonderland
---
The SBA can be reached through the ice in the Northwest part of the area. For more information, see "Secret_Bonus_Area_62". Click picture to embiggen.


Spoiler: Sliding Puzzle Solutions for SBA 62
---
Once you solve the jigsaw puzzle, an elf will appear and give you a quest to get four ice cubes. The ice cubes are in four separate chests distributed around the ice field south of the bushes.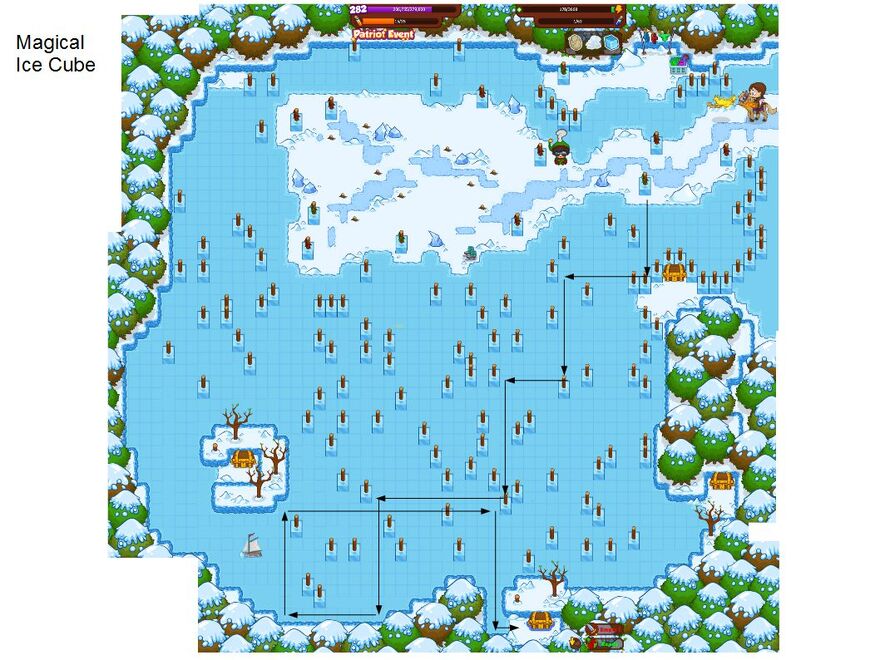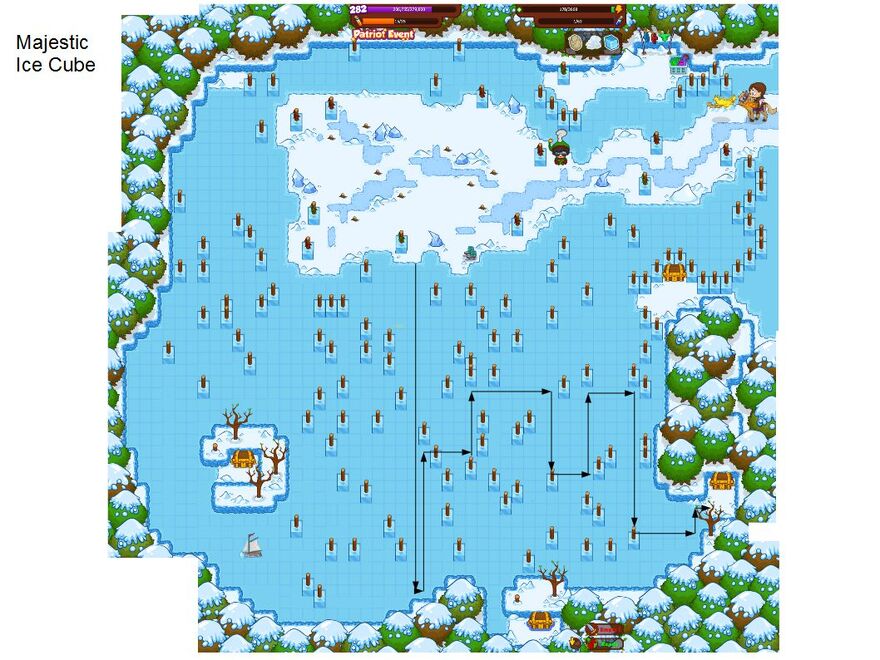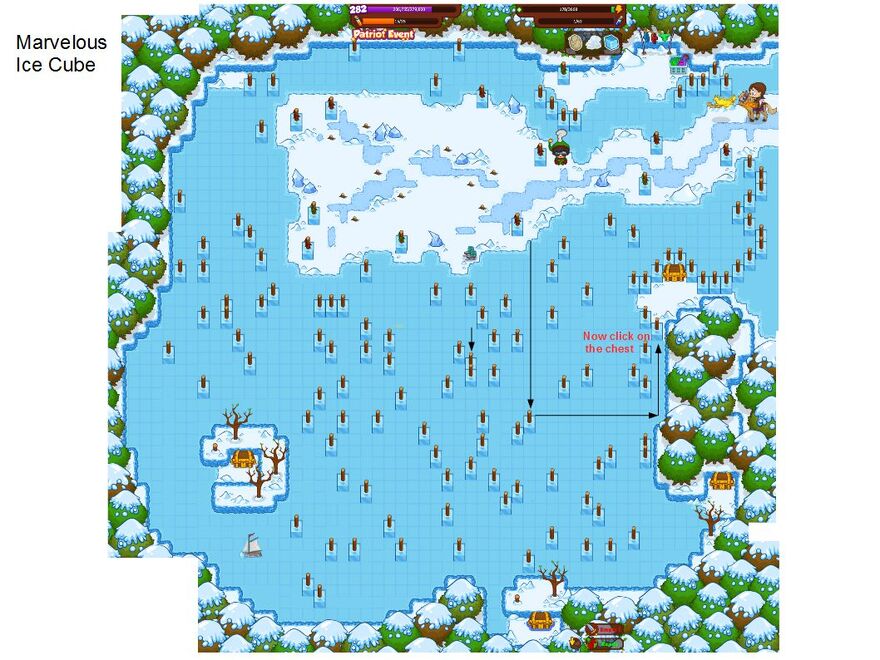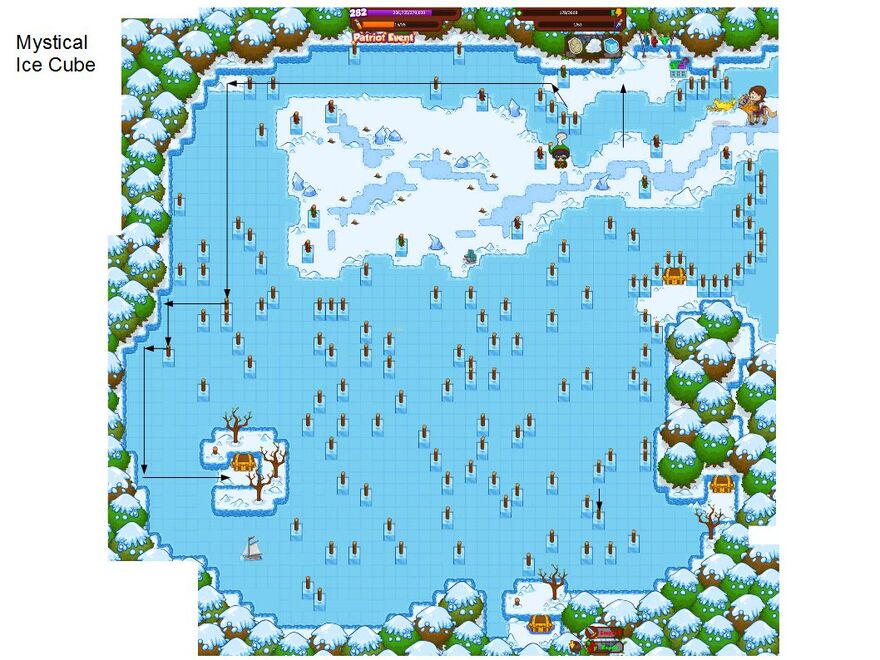 Ad blocker interference detected!
Wikia is a free-to-use site that makes money from advertising. We have a modified experience for viewers using ad blockers

Wikia is not accessible if you've made further modifications. Remove the custom ad blocker rule(s) and the page will load as expected.